I hope everyone has something fun planned for the weekend! If not, you can spend some time joining my new Affiliate Program or just shopping @ AKDesigns Boutique :) I have few updates I wanted to share with you and didn't want to wait until Monday's Weekly Update.

First, I just started a 30% Off All Embroidery Designs Sale to celebrate getting the Affiliate Program all set up. No coupon code is needed, because the discount is already marked. Sale is good now thru 10/19 at midnight.

Second, I took some time researching how Affiliate Programs work since a few of my Yahoo Group members had asked me when I was going to offer it. :) I have to admit that I'm not currently signed up as an affiliate with any companies, so the idea of the whole process was a little overwhelming. I didn't really understand how it worked or what I would need to do on my side to make it work. After much research, I decided to get started! It's a very simple process ~ Just follow the steps below to start earning your 5% commission! Please let me know if you have any questions about how this works or if you have any problems signing up.
Click Here

~ Affiliate Program
Complete the Required Fields and hit submit. NOTE: Make sure your e-mail address is correct because you will receive a confirmation e-mail with important information.


Once you hit submit, two things happen; first, you are taken to a confirmation page that includes all of the website link information you need, and second, a confirmation e-mail is sent to you with the same information.

Be sure to copy the website links from the

confirmation page or the

confirmation e-mail

and paste them into a document that you can save for future reference.

Add the link of your choice to your website, blog, facebook page, send it in a tweet or add it to your e-mail signature.

That's all you have to do! Your customers or friends will follow the link and when they buy stuff, you make money!

I'll run a report mid-month and pay commissions for the previous month. Commissions will be paid with AKDesigns Boutique Store Credit or paid to your paypal account - it's up to you.

Last, but certainly not least, I've added some new Monogram Wizard Plus products to the website. I've listed them below with links to the website so you can see all of the details.
Have a great weekend!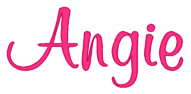 Share on Facebook